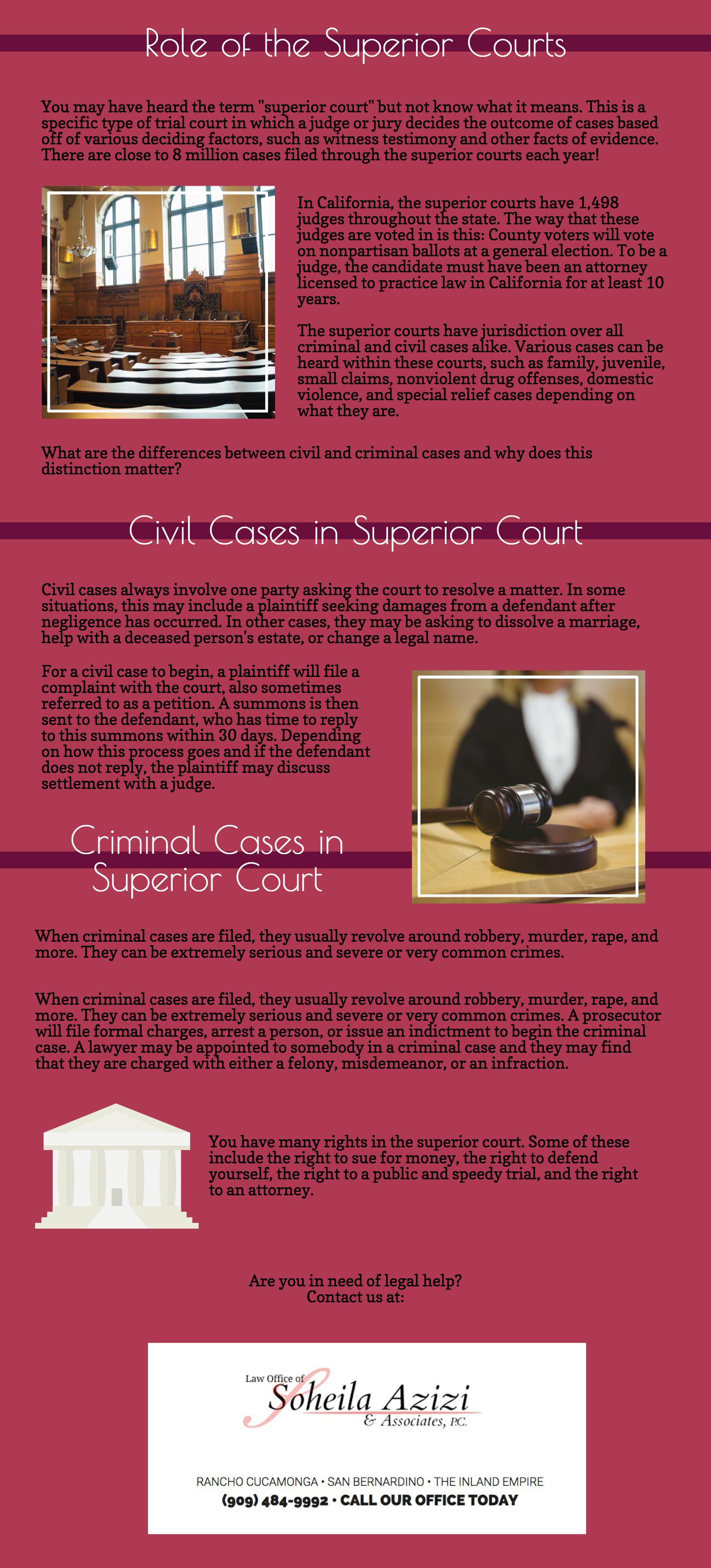 As you may have learned, the Superior Courts hold a lot of power over the lives of both criminals and victims, plaintiffs and defendants alike. When cases take place, they may end in either a felony, misdemeanor, or infraction. Here are some of the penalties that may be incurred due to this:
Felony: This is a criminal offense punishable by incarceration in prison for more than a year.
Misdemeanor: This is a much lesser offense than a felony and could end in incarceration for less than a year in a city or county jail.
Infraction: These are crimes that are punished only by a fine. The trial is decided by a judge, and the most common of such are traffic matters handled by the court. Fines for infraction can range from $200 or more.
Sentences do not always end in prison time, however. Counties across California will sometimes offer something known as "diversion" programs, which allow a judge to order a defendant to get medical treatment or counseling as well as community service work instead of spending a sentence in prison. This program is helpful for those who have received a misdemeanor or felony.
There are several steps that take place in a civil case. These include the following:
A new case is filed as well as a summons issued.
An answer or other response is filed by the respondent.
The case is reviewed.
Discovery process occurs.
ADR may be set.
Either a settlement or trial/judgment takes place for the final matter.
Likewise, there are several steps that take place in a criminal case:
An arrest occurs.
Arraignment takes place.
The preliminary hearing is held only for felony cases.
If a guilty plea is entered, the case will go directly to sentencing.
The pretrial motions take place.
The trial occurs.
The verdict is given.
Sentencing is arrived at.
The Superior Courts handle many different matters and see cases ranging from extreme severity to casual. Do you have an understanding of how these courts work? If not, you can find out more today.