Wheels by Peter Howard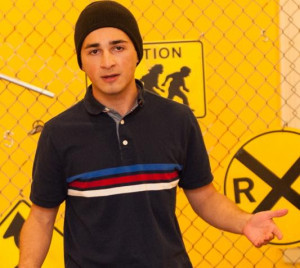 Who "belongs" in this country and who doesn't? Wheels explores immigration, xenophobia and the privileges and responsibilities of citizenship through the eyes of Oscar, a 15 and 1/2 year old Salvadoran-American youth and the people he encounters on his first journey through the maze of the DMV. Oscar is a young man on the move.
Wheels tells the story of Oscar's first steps toward independence, as he steps off the bus and into the Department of Motor Vehicles. In pursuit of his learner's permit and ultimately his driver's license, Oscar encounters a range of perspectives on freedom, mobility, and the dreams and realities associated with U.S. citizenship
Frankie Garcés is a former student of The New School for Drama and has been in numerous theatrical, cinematic, and musical productions. Some of his credits include playing the lead role in The New School for Drama's An Enemy of the People, written by Henrik Ibsen & adapted by Arthur Miller, supporting in Cal State LA's Arcadia, and starring in the short film, The Punchline, written & directed by Skyller Millicano. Frankie enjoys many aspects of the artistic world and would like to use his acting skills to influence social, economic, and class struggles.
BOOK or learn more.
To BOOK or for more information, email
lisablake@westernjustice.org or call (626) 584-7495.
Learn more about the Compassion Plays program